All-inclusive prices – pit stop in Werfen
offer for your short break / hit the road southbound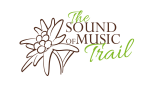 Follow the Trapp familys footsteps
> Hike on "The Sound of Music Trail"
> Hiking backpack or picnicbasket ( 4 persons) containing SalzburgerLand snacks
> Hike on "The Sound of Music Trail"
> Hiking backpack or picnicbasket ( 4 persons) containing SalzburgerLand snacks
> Picnic blanket & hiking poles to borrow
> Hiking map of the Werfen region
> Little present in memory of the trail
PRICES
Snacks for one person in the backpack or picnicbasket
EUR 15,00
backpack
EUR 20,00
rental for picnicbasket
EUR 10,00
rental for picnicblanket € 3,50, hiking pole € 16,50 (you can also rent the hiking pole)
more information
Salzburger LandCard
More vacation for less money
> With the SALZBURGERLAND CARD the admittance to 190 attractions in the entire SalzburgerLand region is "all-inclusive".
> Included is also the 24-hour Salzburg Card that gains you 24 hours free access to all of the sightseeing spots in Salzburg.
> Periods valid: 6-day pass or 12-day pass (summer)
> Family bonus: free additional passes for the third or more children between 4 and 15 years.